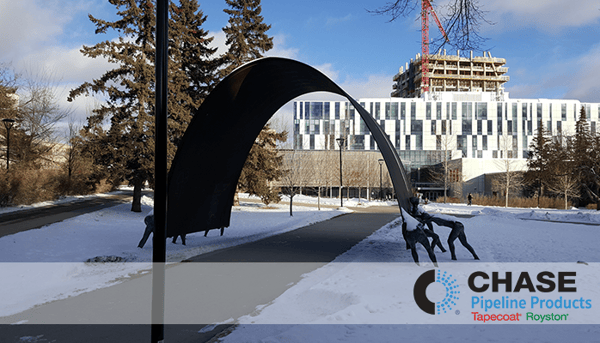 Whether you are applying wax , cold-applied or hot-applied tapes, when Old Man Winter comes calling, this simple list of application tips offers guidance for adding corrosion protection to pipelines.
Snow and ice should be removed with a broom or by hand to prevent damage to the pipe.

Keep the corrosion protection tape and primer pliable by storing them in a warm environment or in your vehicle's cab with the heater on until you're ready to start the application process.

The pipe must be clean and dry; remove all substances that will impede the bond.

Apply heat to the pipe to remove ice crystals.

Heating the pipe between 100 - 140°F (38 - 60°C) will aid in drying the pipe's surface and improve adhesion of the coating.

When working with Tapecoat's elastomeric tapes in temperatures below 40°F (4°C), apply a 4 mil WFT (Wet Film Thickness) of Tapecoat Omniprime to the pipe surface to ensure the required bond. (When working with Color Coat wax based tape, Color Coat primer is needed in all temperature conditions.)

While wrapping the pipe, keep tension on the tape to ensure a secure bond between the tape and the pipe.

Remember: The bond of the tape will increase as the environmental temperature rises.

The tape's outer wrapping is more susceptible to mechanical damage in lower ambient temperatures. Protect the wrapped pipe from mechanical damage caused during back filling by applying an outer wrap of Terrashield or Rugged Wrap prior to back filling.

Verify that temperatures are in line with the manufacturer's product recommendations.
Instructional information for wax tapes:


Instructional information for cold-applied elastomeric tapes:
Instructional information for hot-applied tapes:
Chase Corporation's technical consultants are available to assist you with pipeline product information to meet your application needs. Please
contact us
.