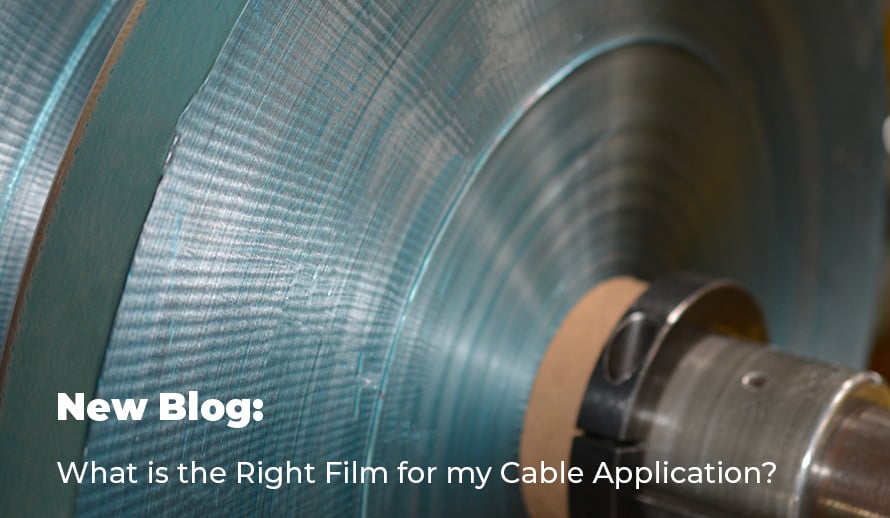 Here at Chase, we offer many tape options. Whether your cable design requires a film used for binding or an aluminum laminated shielding tape, we provide several film options to meet customer needs. So how do you choose the best film type for your application? Some points to consider:
PET film is by far the most popular choice among cable designers due to its high strength and 150oC heat-stable properties. PET thickness is determined by the amount of strength or tension required to form the proper tape wrap.
Cable manufacturer's taping equipment's tensioning ability is an important factor in tape thickness selection. Typically, the more refined the tape pay-off, the thinner the PET backing that is needed to tightly wrap the conductors. Conversely, large-diameter conductors can require thicker, higher-strength cable binders. Chase offers PET-based laminates and binder films in standard thickness from 0.00048 to 0.005 inch (12 to 127 micron)
Consider the need for some dielectric strength in the tape itself. In some cases, a thicker film with a higher dielectric or insulative value to complement the insulating compound is required in a low-loss cable. For example, in some cable applications, the further away the aluminum shield is from the copper conductor the lower the signal loss, resulting in lower capacitance and a better, faster, and clearer cable signal. Chase offers foamed polypropylene tapes in 0.00035 and 0.0005 inches (89 and 127 microns) thickness for applications where a dielectric buffer is needed.
The use of 2 or 3 mils (51 or 76 microns) polypropylene core wrap tape can be used if the cable designer is concerned about smoke emissions coming from a denser PET film. However, the cable manufacturer using the tape would sacrifice strength, durability, and thermal resistance when applying the tape.
Polyimide films: These tapes can be used for binding and EMI/RFI shielding when high temperatures are a concern. While our standard aluminum and polyester shielding tapes can cover your needs up to a continuous operating temperature of 150oC, we have other options such as Nomex® aramid paper and polyimide films for higher-temp conditions. Our Nomex® core wrap product lines, NT200 and NT300 provide binding solutions for temperatures up to 220oC, and our polyimide shielding tapes such as NEPTAPE® 1510 are options to consider when a high-temperature film is required.
Chase also offers FIREFITE® low smoke/low flame polyolefin-based laminates. Using Chase FIREFITE® products such as LS1035 (12m polyolefin/9m aluminum) in your cable design can help decrease both average and peak smoke generation characteristics during Steiner Tunnel (UL910), riser cable (UL1666), and general-purpose vertical tray (UL1581) testing.
Need more information?