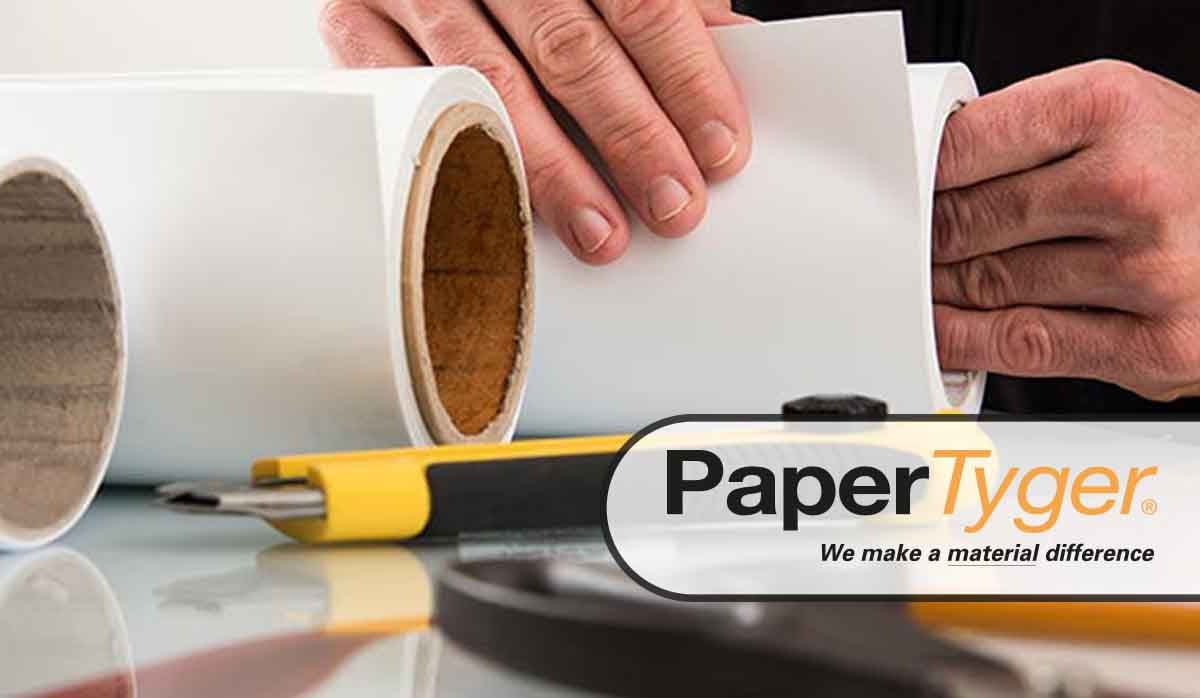 The durability of PaperTyger is a result of a patented paper/film/paper laminating process that provides the toughness of a synthetic sheet with the benefit of an uncoated paper printing surface. Read on to discover 3 reasons why you should buy our durable paper.
1-Invest in an application that lasts
PaperTyger durable paper is water and tear-resistant. The unique patented lamination process provides strength and durability, allowing PaperTyger to withstand frequent use for an extended period for those applications that demand high levels of durability.
So why does it last? PaperTyger's patented lamination process protects printed content against stains, spills, moisture as well as tears and contaminants like oil, grease and dirt. Our laminating process means that all our papers positively contribute to a wide range of applications where durability is required including menus, maps, book covers, envelopes and packaging. It's the preferred choice for applications requiring durability where the product isn't exposed to the elements for prolonged periods. This means laminated paper products are water-resistant, not waterproof.
Aside from the superior durability and tear-proof qualities of our durable paper, it's also a cost-effective and time-efficient way to print. In many applications, for example, it removes the necessity to manually laminate paper to shield it from everyday wear and tear.
2-Superior appearance
For applications that require a superior appearance for promotional purposes, our laminate paper is a smart choice. PaperTyger is real durable paper and is compatible with all paper enhancing techniques of printing on paper, creating a professional look with durability. So, applications using this product grab and hold the attention of any onlooker for longer. This means our durable products are suitable for advertising point of sale marketing and literature.
There are no special inks or set-ups required and no prolonged drying times when using our durable products. Less waste and quicker drying times mean all equal further cost savings.
3-Versatility
PaperTyger is laminated using a patented solvent-less process. As a result, our laminated papers are simply more stable and versatile.
The PaperTyger range of premium durable printing papers is designed to perform on both tonner and digital printers. PaperTyger has been qualified by major OEMs and features on many approved media lists - we're HP Indigo certified too.
Find out more about The PaperTyger and HP Indigo Partnership
Our versatile products are easily embossed, perforated and punched. They fold, crease and bind well as proven on both Duplo and Morgana technology. PaperTyger products are made in master rolls of various widths and can be slit or sheeted to the desired width/size. Finally, they're also available in translucent (Clear-Vu) and Kraft colour.
All PaperTyger papers are designed with durability in mind. The range of our high quality, technologically advanced, cost-competitive papers gives our customers more application options than ever! Our laminating process provides an innovative alternative to synthetic papers and other tear-resistant products. Each PaperTyger product has unique characteristics that make it better suited to certain needs. For example, the Kraft colour is the durable solution for sustainable packaging on high resistance handling, whilst DEFENDER® contains a security barrier to prevent RFID detection.
For more information about our durable printing papers, please contact one of our paper experts!