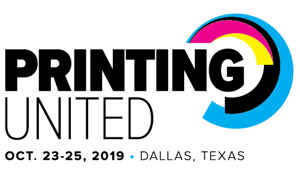 We're announcing our participation in the upcoming PRINTING United
Event date: 10/23/19-10/25/19
Event location: Dallas, Texas
PRINTING United is a brand-new trade show focused on the strong foundation of SGIA Expo. The relaunch of this international trade fair will continue to provide access to 600+ exhibitors featuring the latest solutions for apparel, graphics/wide-format and functional printing applications, while also expanding to the industrial, packaging and in-plant printing segments.
PRINTING United is a tactical response to market forces that demand a single industry show that supplies "one-roof" access to all printing technologies, as well as a variety of educational opportunities, programs, and networking to help overcome your business challenges.
PRINTING United promises the dawn of a new era by illuminating the future of the printing industry.
Stop by the Mohawk Booth #8459 – Graphic & Wide Format, to see PaperTyger samples, speak with a Mohawk representative and learn more about our full line of PaperTyger products and how they can help you build even more success in your production print operations.
For further information please contact Mark Weibel, PaperTyger's National Sales Manager:
Email: mweibel@chasecorp.com
Cell: 262-893-0919