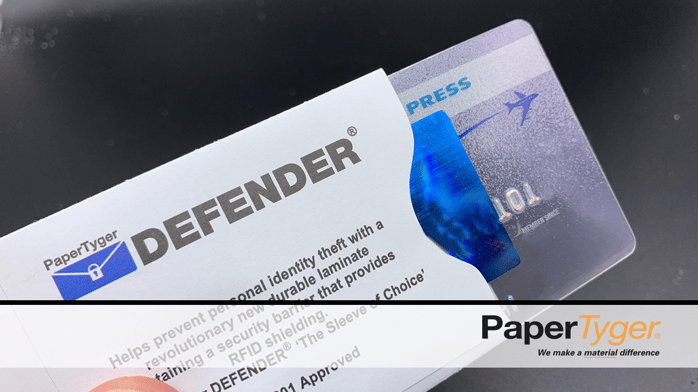 With advances in technology introducing contactless smart cards and passports, there has been a rise in concern about RFID (Radio-Frequency Identification) theft. Without RFID shielding, thieves could steal your information and either use it to generate fake payments or for other scams. So, does your application require RFID protection? Here we look at the realities of RFID theft and whether you need to consider it.
RFID chips use radio waves to communicate using tiny electromagnetic fields. That's why in theory a thief can skim your wallet or passport through your pocket, luggage, bag or post, stealing all its information, without ever coming into contact with it. Although the chances aren't as high as a typical scam, if you're carrying or posting an object with an RFID chip, investing in a cost-effective application to protect you from this occurrence can save you a lot of stress.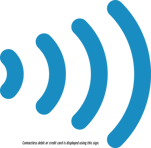 This sign indicates that the object is RFID-chipped.
Fortunately, RFID radio waves are easily interrupted and blocked by simply using an RFID shield. If the shield is properly constructed as per our PaperTyger RFID product range, it will block these electromagnetic fields, protecting you from RFID skimmers or hackers.
How does our RFID shielding work?
At PaperTyger, our RFID product range has a multi-ply laminate that contains a security barrier to prevent RFID detection while offering light-weight, water resistant, durability and the superior printing and converting benefits of the traditional PaperTyger line of products.
PaperTyger RFID has created the standard and number one position for RFID shielding barrier. Our product has been developed into many applications within the RFID segment, which include credit/debit sleeves, passport sleeves, envelopes, badge holders, and the preferred shielding membrane for RFID enhanced wallets, clutch bags, and luggage.
Using credit/debit card sleeves with our PaperTyger product insulates RFID card technology, whilst not impeding its function, thereby counteracting electronic pickpocketing or card clash.
Click here to learn more about card clash.