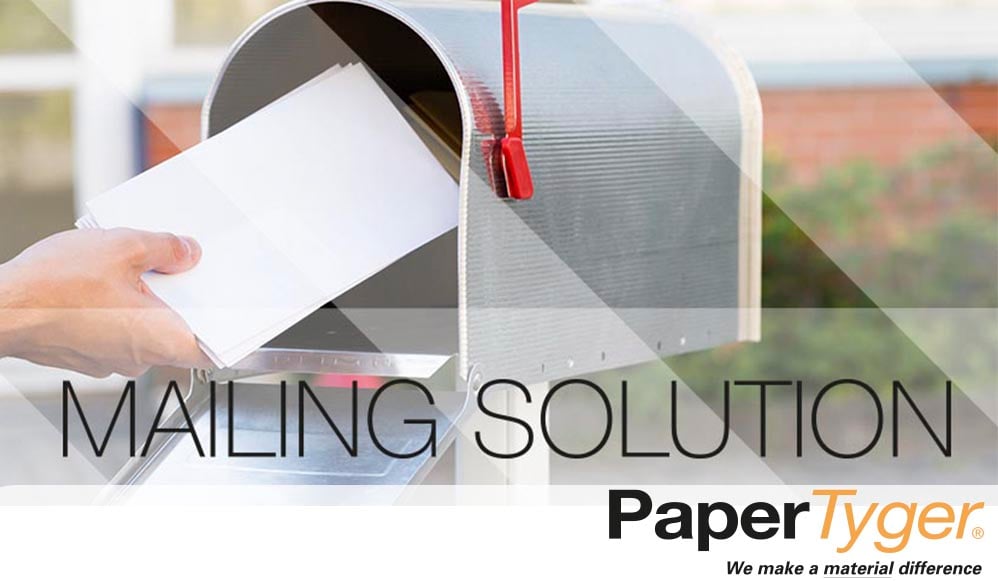 PaperTyger is a paper/film/paper laminate that offers comparable durability to synthetics and a high-quality print surface with no special inks or setups required. The patented solvent-free laminating process delivers the toughness of a synthetic sheet with the benefit of a coated printing surface. The high white papers can produce vivid images for graphics and sharp definition, making it a versatile media for a diverse range of applications including durable envelopes and insertable mailers.
Benefits of using PaperTyger for Envelopes and Mailers:
Durable and Resistant
Using PaperTyger ensures the contents of the mailer get to its destination intact. Our durable paper is a puncture, tear, water and grease resistant - and has superior fold endurance. This means the envelope or mailer's contents are fully protected and resistant to rough handling and tough weather conditions.
Efficient and Cost-Effective
Our mailers increase efficiency by moving from flat lay board mailers to a durable machine insertable envelope. Here's why:
PaperTyger envelopes and mailers will insert on standard equipment just like a paper envelope or mailer. Its printability ease ensures PaperTyger envelopes can be machine inserted 300% faster than board mailers and use standard remoist gum vs hot melt or peel in the seal. The envelope does not need expensive labels or risk crooked placement of labels, so the brand image is preserved. Because they print like real paper, there are no special inks or limitations either, equally further cost savings!
PaperTyger ensures 600% less weight on trucks vs. clay mail board envelopes. In fact, ¼ million more PaperTyger envelopes can fit on a standard truck. This is because PaperTyger is 60% lighter and 65% thinner, which allows for more packages taking up less space, reducing the weight and saving gas and labor cost during air and road transportation.
Here's an Example - A truckload of board mailers has 357,000 mailers, whereas a truckload of PaperTyger mailers of the same size has 952,000 mailers!
Cenveo's® DURAGUARD™ Envelopes and Mailers can be shipped in express mail using standard mail equipment. This ensures postal savings, especially for high volume mailing, as well as reduced labor costs over hand-stuffed flat mailers.

Secure
Our envelopes and mailers reduce labor costs and increase security by minimizing manual work. Cenveo® boasts increased security via their Envelock® tamper-evident protection. Maximum mail protection ensures you can use our mailers for high-value, critical delivery mail like medical tests.
Cenveo's® DURAGUARD™ Envelopes and Mailers using PaperTyger durable paper are available with or without poly windows. You are able to add bar codes and choose from a range of various sizes too. They are manufactured in multiple Cenveo® facilities nationwide, for fast delivery. To learn more, please visit their website at http://www.cenveo.com/Products-Services/Envelopes/DuraGuard
All PaperTyger products are made in the USA by Chase Corporation, one of the world's leading proponents of laminating technology.