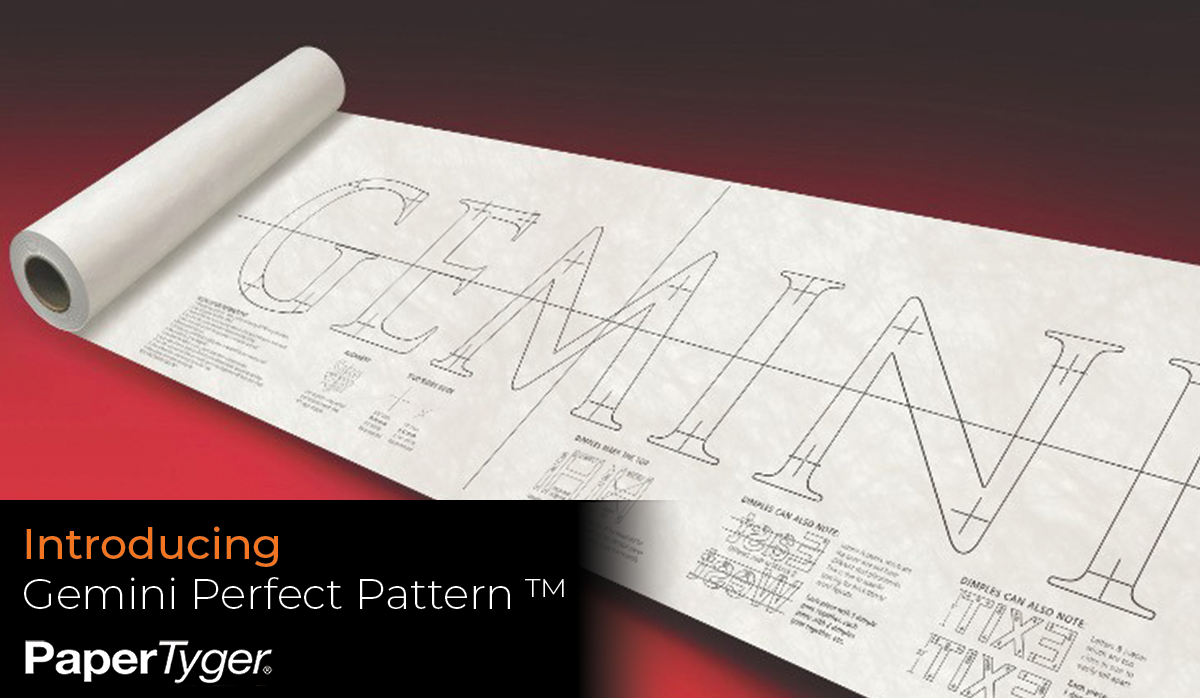 Picture this: you just ordered new signage to install in the front window of your business. Upon receiving your new sign, you quickly realize you'll need a professional to help you install it. Not only is it difficult to align, but it's also time-consuming and requires expert precision. When your design is delivered, you expect it to be printed to scale in the size you requested, but applying the design can create a whole new host of problems. This task is a whole lot easier and more cost-effective if the packaging has built-in markers for placement or stud locations.
Read on as PaperTyger explains how Gemini uses our durable paper with Perfect Pattern™ to improve their customers' experience.
Gemini & Perfect Pattern™
Since 1963, Gemini has been a leading manufacturer of made-to-order letters, logos, plaques, plates, and sign supplies for sign professionals. Their letters and logos are made of high-quality materials with an extensive selection of finishes and can be for interior or exterior installations.
Gemini realized that many of their clients were having issues placing letters and logos during installation. It was very difficult to properly place letters and symbols precisely. After recognizing the need for an improved installation experience, Perfect Pattern™ was created. This elevated the installation process and made drilling and alignment more exact.
Perfect Pattern™ is a computer-generated pattern printed on PaperTyger durable paper that includes instructions, alignment marks, size guides, and location marks. With this pattern, clients are now able to install their logos and letters by themselves without running into issues during installation.
Why Choose PaperTyger?
Gemini ultimately decided to use PaperTyger for Perfect Pattern™. But why? Our durable paper has 3 main characteristics as a result of our patented, solvent-free lamination process. This process results in a product that feels and prints like paper (because it is) but delivers the toughness of a synthetic sheet. Read on for more:
Water-resistant: PaperTyger's materials can resist harsh weather conditions such as rain, mud, moisture, and even grease, without compromising the printing ease of regular paper.
Tear-resistant: PaperTyger's patented manufacturing process creates a tear-resistant, lay flat sheet that tracks well through most printers without static or curl. Our paper/film/paper construction adds strength and stiffness to applications that are handled frequently, enhancing the quality of the product.
Durable: PaperTyger is ideal for Perfect Pattern™, as handling conditions alone can cause paper and laminated products to suffer damage during the shipping process. The film core allows for the durability of synthetic paper, with the look and feel of standard paper. PaperTyger with Perfect Pattern™ is built to withstand the test of time for indoor and harsh outdoor conditions.
Finally, when ordering with Perfect Pattern™, clients' designs are actually saved! This allows for easy and cost-effective re-printing and re-installing with the same markers as the first order, so you can rest easy knowing that you can always order more without compromising your branding or aesthetic.
Need to talk? PaperTyger offers a range of solutions for your business. Contact us for more information.