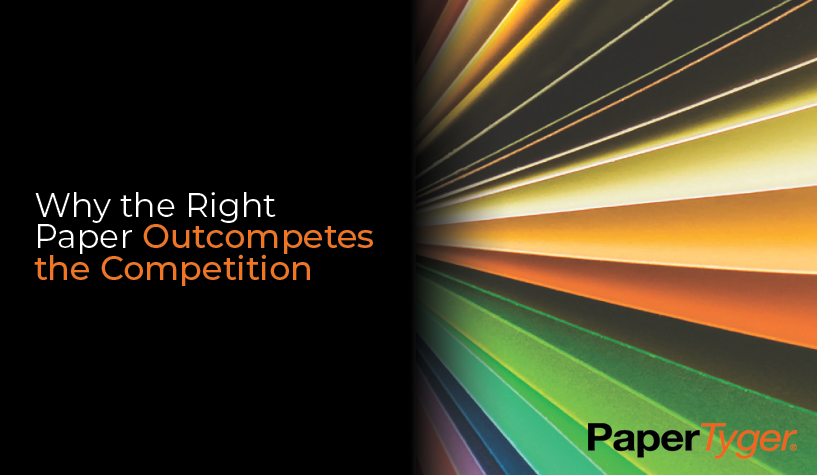 There's a myth that all printer-compatible papers are the same. This couldn't be further from the truth. In actuality, there is a wide range of characteristics and applications for different types of printer-compatible paper types, and this varies depending on the user and their needs.
Read on as PaperTyger explains why it is the superior paper choice for your business to print in-house.
The Right Paper for HP Indigo Line Printers
PaperTyger's printer papers are designed to be resistant to water, smudges, wrinkles, and fading. This means that you can trust your documents and projects will last longer and look better than with other paper types. PaperTyger HP-compatible paper, for example, is an innovative product designed to provide superior printing results as well as cost-effective benefits. It is made from a unique combination of elements that make it more durable and resistant to wear and tear than traditional printer paper.
The properties of this paper allow for better ink absorption, deeper colors, and sharper prints. In addition, the printer compatibility of the paper makes it easy to print designs in-house because PaperTyger Indigo products are certified to run on the HP Indigo line of digital printers. As a cost-effective solution for businesses, PaperTyger and HP Indigo offer a unique partnership that provides the flexibility and ease of using a durable substrate on printing projects while maintaining efficient turnaround times.
Aside from the HP Indigo partnership line, there are many more advantageous compatible technologies that allow for ease of printing in-house with PaperTyger paper. This makes PaperTyger paper an ideal choice for projects that benefit from printing their durable paper in-house and removes the need for outsourcing a business's printing needs.
Related Articles:
Know the Difference: Inkjet vs Laser Printing
Digital Inkjet Printing vs Flexography
The Main Benefits of PaperTyger Paper
One of the most significant advantages of PaperTyger products is their ease of printing and converting. The high white paper, film, or paper laminate can produce vivid images for graphics and sharp definitions for detailed text and bar codes. There are no special inks or setups required, and no prolonged drying times which generally add cost- unlike comparable synthetic papers. PaperTyger is manufactured with a patented, solvent-free laminating process which increases the durability and longevity of your printed designs. This means PaperTyger boasts the durability of synthetics, but the cost-effectiveness and printing ease of real paper.
Related Articles:
Is PaperTyger a Synthetic Paper?
PaperTyger is also available in rolls & sheets that are configured and optimized for digital printers. Laser toner compatibility is guaranteed and PaperTyger doesn't require expensive coatings like other synthetics.
PaperTyger at a Glance
PaperTyger is compatible with a range of different printers. This includes digital presses, HP Indigo, inkjet printing, wide format, overprint coatings/varnishes, flexography, and even screen printing.
PaperTyger acts and performs like paper because PaperTyger is REAL paper, with added durability.
PaperTyger can be used for a wide range of applications such as maps, menus, envelopes, RFID sleeves, official documents and more. Its endurance and professional finish ensure your prints will look great, last a long time, and all while doing so at a cost-effective rate.
User-friendliness goes a long way. PaperTyger offers comparison charts on each product page as well as free samples on their site so you can easily compare different types of compatible papers and determine which is the best for your needs.
Curious to see if PaperTyger is right for your business? Check out our FAQs here or contact us today.