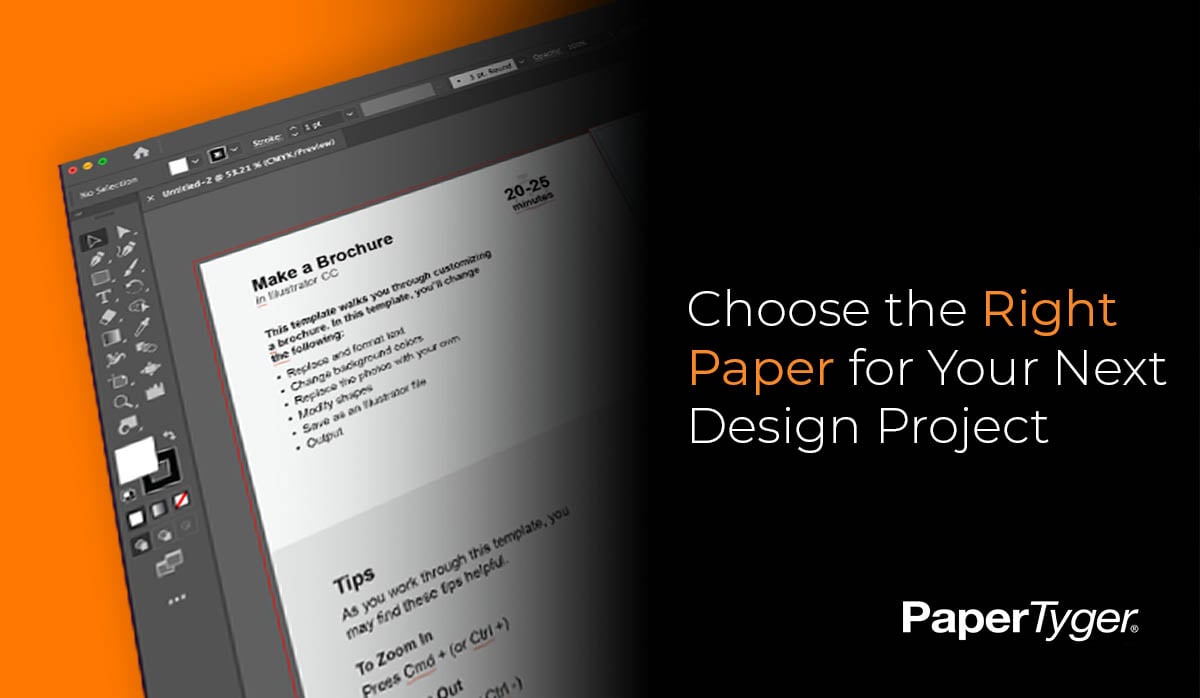 As a designer, paper choice is a critical point of consideration in print design. Failing to properly consider what option is best for you can result in an unforgiving and costly error. Read on to discover why PaperTyger paper consistently performs well across all varieties of applications.
What is PaperTyger Durable Paper?
PaperTyger is a paper that looks, feels, and behaves like real paper for one simple reason; it is real paper. It's real paper that offers the durability and resistance of synthetic paper (without being one) because PaperTyger products are manufactured using a solvent-free laminating process.
Anyone who knows printing will tell you firsthand that synthetic paper is fickle to work with.
Not all printing methods can effectively handle synthetic material. Real paper wins out on printing. It does not win out, however, on durability. Whether it's the weather, or the constant threat or rips and tears, there is certainly something to be said about synthetic paper's longevity. PaperTyger prints just as well as natural paper, and it can stand up to the harshest conditions alongside most synthetics. This truly is the best of both worlds, and certainly the best for design.
PaperTyger Wide Format, for example, is a popular choice for advertising, point of sale marketing, and signage, which requires high-quality paper to ensure printed graphics maintain a high resolution and clarity when enlarged.
Related article: Why Use PaperTyger For Your Wide Format Applications?
Benefits of Durable, Laminated Paper
PaperTyger paper is in high demand for a diverse range of applications. Read on to discover why PaperTyger is suitable for your next design project.
PaperTyger offers a Range of Basis Weights
Different printing needs require different paper weights. At PaperTyger, we understand that carefully choosing a basis weight to suit your application is key. Therefore, PaperTyger products are available in basis weights ranging from 17# to 10.5PT (65gsm to 290gsm).
Laminated Paper offers Longevity
When investing in a paper for your next design project, we understand that the durability of the end product can be an important factor in deciding what paper you choose. PaperTyger's patented lamination process protects printed content against stains, spills, moisture, as well as tears and contaminants like oil, grease and dirt. Therefore, our paper positively contributes to a wide range of applications where durability is required, such as menus, maps, book covers, envelopes and packaging.
Related article: Why PaperTyger is a Top Rated Durable Paper
Ultimately, if choosing PaperTyger for your next design project, frequent reprintings will not be required, plus no need for manual lamination, equalling further cost savings for your project.
Natural Paper offers Superior Appearance
For design applications that require a superior appearance, our laminate paper is a smart choice.
There are no special inks or set-ups required and no prolonged drying times when using our durable products. Consistent and smooth printing surfaces ensure exceptional graphics for your print projects. Furthermore, less waste and quicker drying times guarantee all equal further cost savings.
PaperTyger offers Printing Quality and Ease
Remember, PaperTyger characteristics are like real paper, because it is one. PaperTyger can be printed in different printing methods without inconvenience - and our range of premium printing papers are designed to perform on both laser and digital printers. PaperTyger has been qualified by the major OEMs, features on many approved media lists, and is HP Indigo certified.
Our versatile paper products are easily embossed, perforated, and punched. They fold, crease, and bind well - proven on both Duplo and Morgana technology. PaperTyger is made in master rolls of various widths and can be slit or sheeted to the desired width/size. Each PaperTyger product has unique characteristics suited to your needs.
Interested in using PaperTyger for your design project?
Request a sample today.