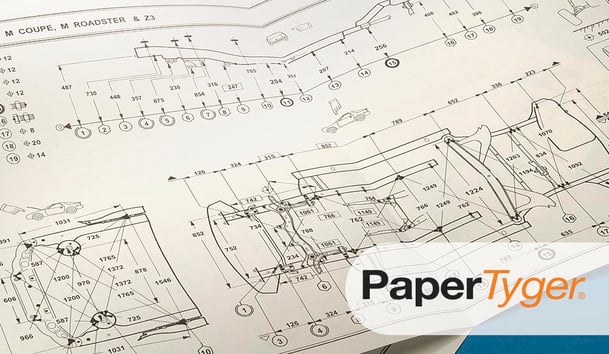 Wide Format printers are used to print a variety of applications, such as to print banners, posters, trade show graphics, construction plans, and any other large artwork or signage. But the majority of these require a high-quality paper to ensure their printed graphics maintain a high resolution and clarity when enlarged - while staying cost-effective and durable too.
The patented manufacturing process of PaperTyger Wide Format creates a tear-resistant, lay flat sheet that tracks without static or curl through both roll and inkjet devices. The paper surface also has compatibility with multiple ink sets and toner devices. Read on to learn more about the many benefits of using our PaperTyger Wide Format paper for your applications:
Good Print Performance and Ease of Printing
A significant advantage of PaperTyger products, including Wide Format, is its good print performance and ease of printing. There are no special inks or setups required and no prolonged drying times. Our consistent and smooth printing surfaces ensures exceptional graphics. As seen on our Wide Format Product Page, our PaperTyger Wide Format boasts:
Good toner/ink adhesion
Good line acuity
Good image sharpness
Good black density
Smooth matte finish
Alternative to double matte film
It's as durable as synthetic paper (with added benefits)
The durability of PaperTyger is a result of a patented paper/film/paper laminating process that provides the toughness of a synthetic sheet, with the added benefit that it looks, feels, prints and converts like paper. Furthermore, our paper doesn't require any added cost for prolonged drying times or special coatings, inks, settings or plates like most synthetic papers.
Water Resistant
Standard PaperTyger products are also water and tear-resistant - designed for short-term exterior applications. The inner layer of film offers a comparable moisture barrier to synthetic papers too.
Printer Compatibility
WF Toner – KIP / Oce / Xerox
Aqueous Dye – Epson / Canon / HP
Aqueous Pigment – Epson / Canon / HP
Pagewide – HP
Memjet – Oce / Fuji – Xerox / RTI / Xante
Latex – HP / Mimaki
Toner Press – Canon / Konica Minolta / Xerox / Ricoh
UV – Fuji / Agfa / CET / HP / Oce / Mimaki / Vutek
PaperTyger Stays Flat
PaperTyger is laminated using a solventless process. This laminating method requires no ovens evaporate solvents, or water-based adhesives. As a result, our laminated papers are more stable.
Available in Rolls and Sheets
PaperTyger products are made in master rolls of various widths and can be slit or sheeted to the desired width/size.
PaperTyger also folds, stitches, perforates, binds well and more due to it printing and converting like paper. Find out more here
Product Specifications

Reference

Basis Weight

PT

Caliper

Paper Grade

Master Roll Widths

GSM

LBS

µm

Mils

mm

Inches

100
27
–
108
4.3
Bond & Writing
610, 914 & 1067
24, 36 & 42
150
54
6.5
155
6.5
Cover
610, 914 & 1067
24, 36 & 42
200
74
9
228
9
Cover
610, 914 & 1067
24, 36 & 42
Still have questions?