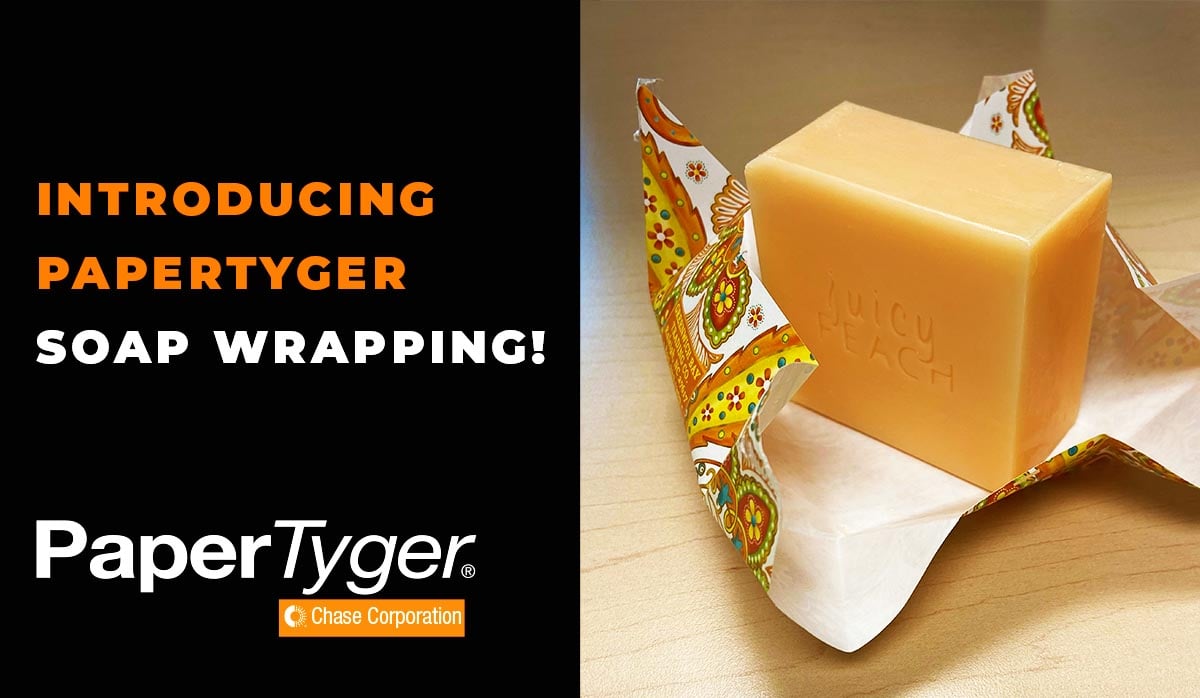 Soap wraps are a very affordable way of branding your products whilst keeping them protected from knocks and bruises. You can use your soap wrap designs to reflect the soap's ingredients and to emphasize the natural elements and fragrances - if the material you use is of high quality, of course!
PaperTyger is being successfully used as the outer wrap of boutique soaps at major retail department stores, hotels, and spas. Our soap wrapping paper is made of high-quality, technologically advanced laminated papers, with a focus on cost-consciousness. Manufactured by a patented, solvent-free laminating process, all our PaperTyger materials are designed to be durable.
Branding with Soap Paper Wrapping
Let's look at a few reasons why PaperTyger wrapping elevates the quality of your packaging.
One advantage of our material is that it incorporates polymeric film in the laminate, which is inherently grease resistant. Therefore, the oil from soaps won't bleed through and distort the printed graphics on the packaging!
Prints and Converts like Paper
Another significant advantage of PaperTyger products is the ease of printing and converting. The high white paper, film, or paper laminate can produce vivid images for graphics and sharp definition for detailed text and bar codes. Printed graphics on our wrappings, therefore, look professional, clean, and finished. Furthermore, customers can make use of all the wrapping's sides for text and product information. PaperTyger is suitable for a wide range of applications and print technologies. Essentially, it is a durable product, that can be printed and converted in-house, unlike its synthetic competitors.
Don't forget, our papers are just the right weight to fold nicely around soap bars and thick enough so there is no show-through of print on the unprinted side either.
PaperTyger's durability is due to the patented paper/film/paper solvent-less laminating process that delivers the toughness of a synthetic sheet with the benefit of an uncoated paper printing surface. This ensures our customer's soap products are well protected, with a durable barrier from the elements and the soap. This also ensures the soaps are long-lasting in extreme handling (or smell!) conditions before they are bought or used.
Related Article: Basics to Business Branding
Consequently, our soap wraps are the perfect finishing touch for your soaps and are available in a number of sizes and weights to suit your application! Need to talk? Contact us to find out if our PaperTyger durable papers are suitable for your application.