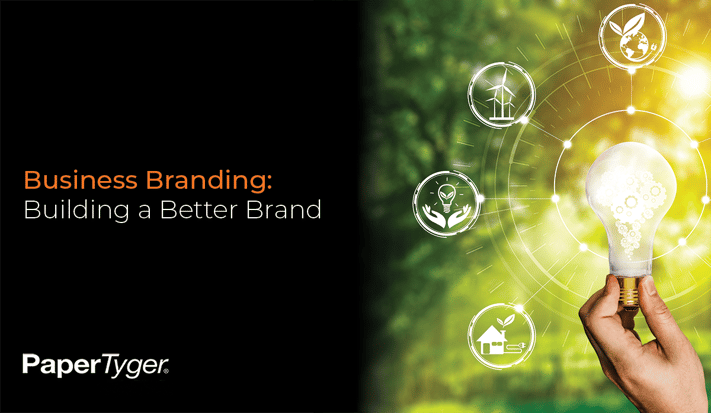 Before we discuss branding, we must first identify what exactly a brand is.
A "brand" is a type of product manufactured by a particular company under a particular name. In other words, your company's brand is central to how your business turns a profit.
Branding design is the way consumers will visually recognize your business. It is a primary component of building your brand and sets the foundation of your business' marketing strategies. Having an excellent branding design will give you the traction you need to start building recognition.Read on as PaperTyger explains the importance of branding for a business.
What is Branding?
Branding is the identity of a brand and includes elements like the logo, color scheme, shape, typography, and all the design components that add originality and distinguish you from your competitors. Poster branding comes to mind, but this can include a lot of things. Branding is used on every part of a business' products and indicates that your company was behind the creation of a particular good or service.
Branding is carefully created by a designer who considers your target market, company values, and services offered. When a designer is tasked with the creation of a brand (say, a creative poster design), everything is well-planned and thought out. Each element (such as lines or color combinations) has purpose, and talented designers can effectively implement these concepts.
Branding can also be included in stationery products, packages, wrapping paper, menus, uniforms, hats, posters, and more. When you add your branding to everyday items used both in and out of the office, they help you market your business organically. Those that are using or wearing your branded products are marketing catalysts, and they help build brand awareness and familiarity.

Business Branding: How it Works
In case you're still skeptical, let's break down some of the reasons why branding is key, regardless of your business or niche. Branding is essential because it builds trust over time, and consumers can identify your company when they see it. This indicates that good branding is vital as it helps consumers make the choice to purchase your product over your competitor's product, and this is because they know and trust that your brand is reputable.
Think about the internationally popular soda that starts with "C." You can easily visually identify and distinguish that soda from all the other sodas in the supermarket. Even now, it's highly likely that you already have an image in your mind of a can or bottle of Coca- Cola. That's branding. No matter how big or small your business is, branding design is critical for you to build recognition in your niche.
Benefits of branding design
Branding design is the first impression you give to your audiences. Some benefits of creating a branding design for your business include:
Stands out in a saturated market. The aesthetic of your brand will make your services more recognizable and distinguish you from your competitors.
Trust & credibility. A well-designed branding package will create the feeling that you're a trusted seller, even if you are a new business.
Builds customer loyalty. Branding helps consumers to build trust and an emotional connection with your product. They'll choose your company over others because they know you'll deliver.
Spreading Your Brand: Logos Everywhere
When you think of branding, your mind jumps to the logos and colors, but how do these logos and colors make their way out into the world? Websites, email, and other digital means are strong starts; we can also extend these methods to the physical world as well. Good physical branding opportunities include:
Business Cards
Physical Merchandise (Pens, Lanyards, etc)
Stationary and Letterheads
Notepads
Packaging (Boxes and Paper Wraps)
Mailers
Posters and Billboards
Handouts
Related Article: Point of Sale Marketing
You can personalize folders, letterheads, envelopes, and business cards so clients and providers can identify you with ease. High-quality business stationery sets your business apart from novice companies.
Select a durable material that also ensures solid graphic colors, like PaperTyger durable paper. With PaperTyger, your branded stationery products will be long-lasting and resistant; your design will not be compromised by tearing, grease, water, or harsh weather conditions.
By now, we hope you have a good idea of why it's important to incorporate your branding into your business and stationery products. So, contact PaperTyger to help you select the best application for your branded stationery products today.