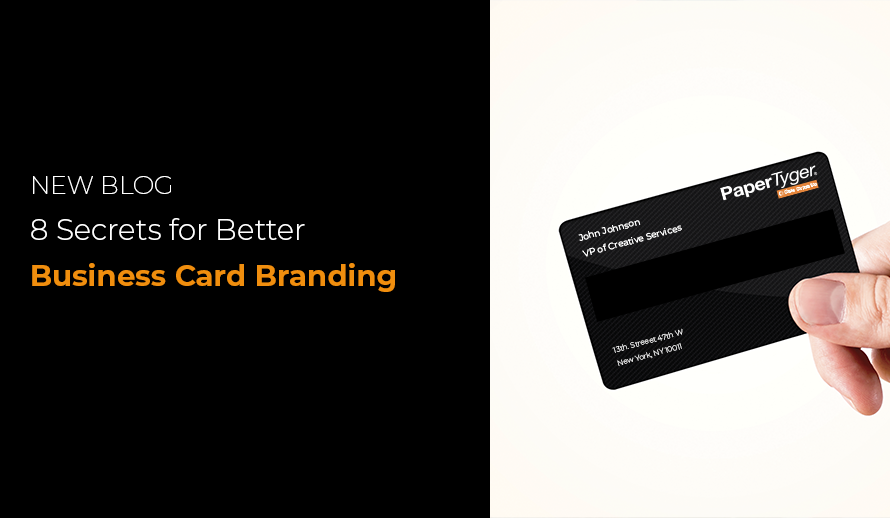 In the era of technology and social media, many professionals question the necessity of modern-day, physical business cards. While people often connect on platforms like LinkedIn, traditional business cards remain a straightforward way to create an excellent first impression. To this day, they remain a staple in creating a strong business brand. Read on as PaperTyger shares why business cards are still as relevant as ever, with some tips to make them effective.
Main Benefits of Business Card Printing
Business card printing offers many benefits for companies and independent professionals. Having a business card creates an opportunity to promote yourself and highlight your area of professional expertise.
The main benefits of business cards are:
They are marketing tools: There is no other direct marketing tool quite like a business card. It's a great way to introduce yourself to potential clients, start a conversation, and enhance interaction.
They show who you are: In seeing the design, material, and information on your card, people develop a professional image of you and how you stand out from competitors.
They are memorable: Business cards are tangible items that clients can take with them. They're a portable reminder of you and the services you offer.
They make you look professional: Always having a business card on hand to give to potential clients shows your professionalism and makes an impact beyond a simple contact exchange.
Tips for an Effective Business Card
Effective business card printing represents more than just printing a paper with your information. It has to be attractive enough to catch the attention of prospects and stand out from other business cards. To attract potential clients or business partners through business card printing, follow these tips:
Include relevant information: Add your name and job title, company name or your logo, business phone, email address, relevant social media, website and a QR to see your book.
Select a design that shows your personality and profession: A business card is an extension of your professional life. Use a design that reflects your business through color, lines, typography and even texture. Make sure it is creative, legible, and free from distortion.
Add technological networking tools: Printed business cards are able to integrate in the tech world. You can use technological tools on them, like a QR, which people simply scan with a phone camera. You can use a QR to:
Add your portfolio to show your work. This is ideal for designers, marketers, make-up artists and other jobs that require proof of previous work to demonstrate your abilities.
Redirect people to a WhatsApp conversation to facilitate getting in touch.
Link to your professional social media profiles.
A link to your long-form CV. If you are a seasoned professional with a long, but relevant CV that is important to show, use a QR that directs to a website where prospects can read a full version.
Get them printed professionally: A professionally printed business card will have a greater impact and make you distinguishable from the crowd. The material and texture you choose is another tangible element that will ensure people remember you.
Exchanging business cards is a component of building a strong relationship from the first contact. PaperTyger is a durable paper that, due to its tear and grease resistance qualities, is the perfect material to print your business cards. Another significant advantage of PaperTyger paper products is the ease of printing. There are no special inks or set ups required and no prolonged drying times. Consistent and smooth printing surfaces ensure exceptional graphics for your business card designs.
Contact us to help you select the right paper for you.