We highlight the key benefits of PaperTyger paper, proving why our durable products are in high demand for a diverse range of applications.
BURST RESISTANT AND TEAR-RESISTANT
Our PaperTyger paper/film/paper is a smart choice for its durability that's comparable to synthetic papers. We are used for a range of applications requiring durability at a cost-effective price including consumer products, exceptional graphics and official applications. Use PaperTyger products for secure, no fuss, transportation of secure items through any tough handling processes too, including durable envelopes and mailers.
WATER-RESISTANT
PaperTyger's unique patented paper/film/paper laminating process means it can stand up to extreme weather and handling conditions. See for yourself as we put our water-resistant paper to the test.
EXCELLENT PRINTABILITY
Because PaperTyger looks, feels, prints, and converts like real paper, there are NO special setups, NO jamming, and NO special inks required!
FSC ACCREDITED
Our papers are high white wood-free FSC® certified, coming from responsible resources.
MACHINE INSERTABLE
Our PaperTyger product is the preferred choice for durable mechanical insertion envelopes.
COST COMPETITIVE
Aside from PaperTyger's superior durability and printability, it's also a cost-effective and time-efficient way to print. In many applications, for example, it removes the necessity to manually laminate paper to shield it from everyday wear and tear. Less waste and quicker drying times vs. synthetic products equal further cost savings too!
Read 'Is PaperTyger a Synthetic Paper?' to find out more
MADE IN USA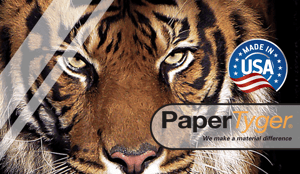 Finally, all our products are manufactured in the USA. This ensures we support the local and national economy, enforce high standards of safety and control, and that our products come from responsible sources.
Read 'Made in the USA' for more information
Need to talk? If you have any questions, you can always contact us.