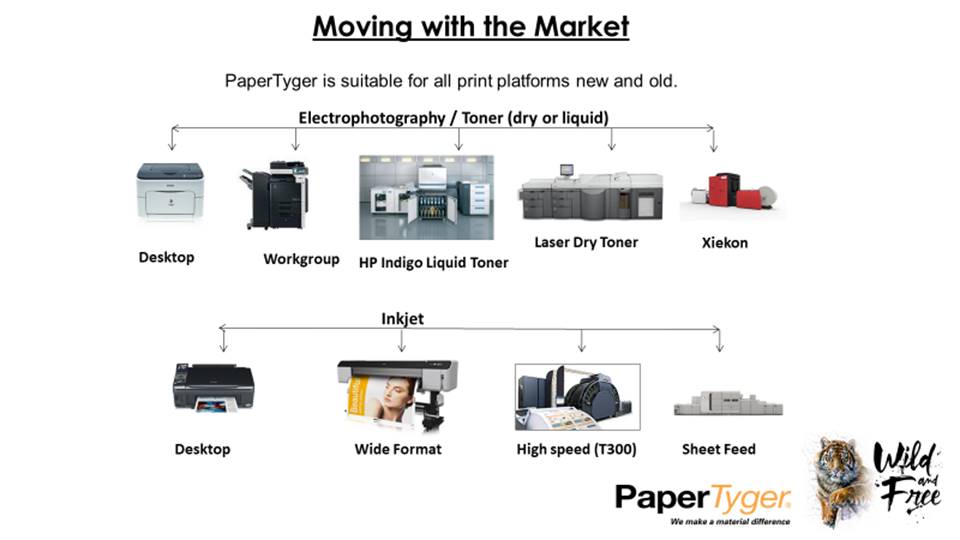 PaperTyger products are a range of high quality, technologically advanced laminated papers with a focus on cost-consciousness. A wide range of technology is suited for processing PaperTyger.
Unlike traditional printing substrate paper, PaperTyger is manufactured by a patented, solvent-free laminating process. Therefore, all PaperTyger papers are designed to be durable. The following reference for processing PaperTyger is based on our current knowledge and will be subject to continuous updating.
Digital Presses
PaperTyger can be printed using most digital presses from Kodak to Xerox.
HP Indigo

PaperTyger Indigo products are certified to run on the HP Indigo line of digital printers. Cost-effective for short-run and custom business, PaperTyger and HP Indigo offers a unique partnership providing the flexibility and ease of using a durable substrate on printing projects while maintaining a fast turnaround. PaperTyger is certified for HP Indigo Digital presses; 7000, 5000, 5500, 5600 multi-shot, 7500, 7600, 7800, 7900, 10000 & 12000
Inkjet Printing
PaperTyger substrate readily accepts aqueous inkjet images, the sheet is optimized for inkjet printability and yields photo-realistic images and prints as standard copy paper would.
Wide Format

PaperTyger Wide Format creates a tear-resistant, lay flat sheet that tracks without static or curl through both roll and sheetfed inkjet and toner devices. The paper surface also has compatibility with multiple ink sets and toner devices.
Laser Printers and Copiers
PaperTyger can be made available in the appropriate roll and sheet configuration for digital printers. PaperTyger is digital and laser guaranteed. PaperTyger is optimized for laser and toner printability without the need for an expensive coating like many synthetic printing substrate papers.
Overprint Coatings/Varnishes
Ultraviolet (UV) radiation curable coatings, Water-based or aqueous coatings, Oleo resinous (oil-based resin) coatings. Overprint varnishes (OPV's) are coatings applied to an already printed sheet or web. The primary reasons for applying an OPV are gloss enhancement, stain resistance, edge fusion resistance, burnish or scuff resistance and resistance to discolouration from absorption of impurities in the environment. There are three basic types of OPV's; oil-based, water-based, and radiation curable. Overprint coatings/varnishes set and dry quickly on PaperTyger. Therefore, offsetting or blocking is not a problem when applying them to PaperTyger. The amount of press varnish required is typically equal to that required for the paper.
Flexography
PaperTyger should be handled as comparable papers. Due to the product's ability to absorb water as standard paper would, both solvent-based and water-based flexography inks work well. Ovens and dryers should be operated at a rate comparable to paper with normal airflow rates.
Screen Printing
PaperTyger is compatible with screen printing due to its excellent lay flat and ink holdout; drying temperatures are typical of that of paper.