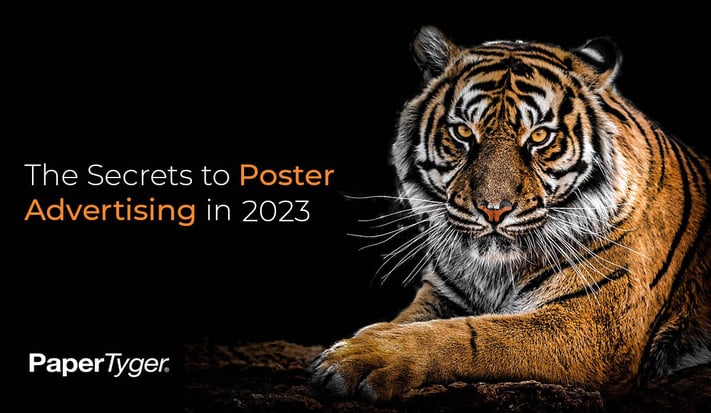 There are many types of platforms to advertise, so it can be difficult for businesses to choose where to focus their marketing budget. Many companies opt for the digital route, like paying for Google and Facebook ads. However, this can be costly and difficult to get right. An often-underestimated method is the power of posters.
Printed posters communicate to audiences fast and have tremendous visual power. Let's look at the effective implementation of printed paper posters in advertising - as well as tips on how to have a strong poster design.
Posters Branding: A Cost-Effective Solution
The popularity of Google, Facebook, Instagram and other digital platforms has often made them the preferred advertising option. Despite the fact that they can be expensive and require continued reinvestment, businesses might believe this is the best advertising route in our digital age. Often times there is a cost-per-click expense in front of the advertised content. Yes, a Google ad campaign may get your content on the top result of a targeted search, but the costs ad up, especially on highly competitive results.
Related Article: Benefits of Laminated Printing
Posters, on the contrary, are more affordable as they are a one-time expense that can be displayed for much longer. They also can be an extremely effective advertising tool as the entirety of their content is displayed at all times. Your poster at a busy bus shelter isn't hidden as a search result URL, with the potential to scroll past. Nor does your poster cost upwards of a dollar every time someone walks by. Couple this with an eye-catching design, and you have a true "set it and forget it" strategy.
Posters: Longer Lifecycle
Printed posters' longevity is key to their cost-effectiveness. But to ensure that applications take advantage of this, they should invest in a durable paper that lasts!
PaperTyger durable paper is ideal for applications that require durability at a cost-effective price, including posters for advertising. PaperTyger has an exclusive patented paper/film/paper laminating process, which allows it to resist extreme weather and handling conditions. Benefits include enhanced water resistance, tear resistance, and grease resistance. So, investing in PaperTyger paper for your poster will be a cost-effective solution that ensures your advertising will be proudly presented for a long time!
Related article: What is the best printing paper for point of sale marketing?
Posters vs digital ads
Research shows that 70-80% of users ignore online advertisements. The reality is that online advertising is in a state of rapid flux, being more competitive than ever before. So, businesses need to be at the top of their game to stand out from the crowd.
Given studies show that printed advertising has more credibility in the United States than social media, applications might benefit more from investing in printed posters. A well-designed and well-positioned poster with the right campaign message can stop people in their tracks. Therefore, being perceived as more trustworthy, a printed poster is more likely to connect with an audience than a sponsored ad that the majority simply scroll past.
So, how to achieve this? Read on for PaperTyger's effective poster design tips!
How to Create Effective Poster Design
To ensure your advertising with effective posters, their design must be clear for your target audience, be attractive and memorable. To ensure an effective poster design, follow these simple tips:
Identify the objective of your poster: What exactly do you want to share? Updates? Discounts? A new collection? Your business? Use the objective of your poster as a guide for your design;
Text: Don't clutter your poster with too much information. You must be able to communicate with a few words. Texts have to be organized in sections, and they have to be direct and appealing;
Graphics: Images or graphics need to complement the text and be big enough to be seen from a considerable distance;
Color: Use colors that help you to communicate your message properly. Each color has a meaning and evokes specific emotions in consumers. For example, red is often associated with excitement while blue evokes a sense of security. Be sure to choose it carefully;
Branding: Remember to include the logo of your business and a destination. This may be the business address or links for social media. In the end, the main purpose of having a poster in advertising is to promote your business, so ensure the information you include helps drive the consumer to it! So think about where you want to guide your audience to complete the marketing cycle. For more information on business branding, check out our beginner's overview!
Contact us to learn more about why PaperTyger paper can be beneficial for your next poster design. Interested in using our paper for your printed posters? Order a free sample today!