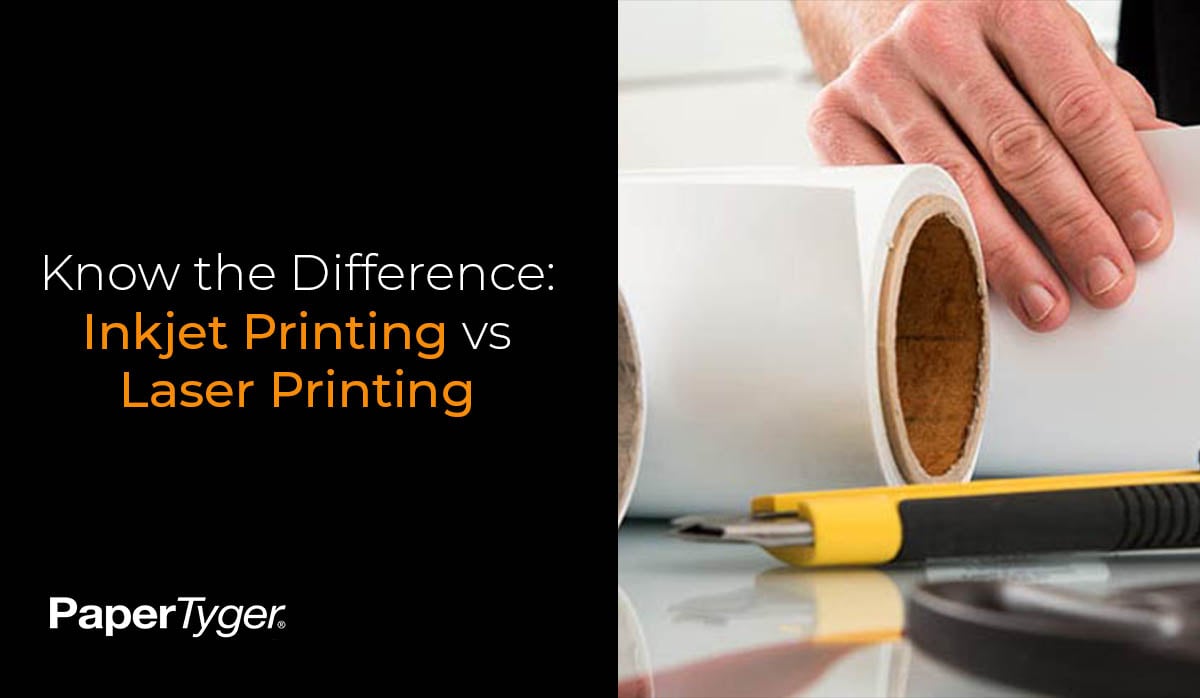 There are seemingly limitless methods for printing, each with distinct advantages that benefit specific printing operations. For instance, we've discussed and compared offset printing in the past to other methods, highlighting its strengths in bulk, high-quality prints.
Let's now look at inkjet printing and laser printing. We'll unpack how each works, and what their relative strengths are. Let's demystify the process and identify which will be best suited for your needs. And as always, please reach out if you have any questions and one of our specialists will be happy to work with your personal needs!
What is Inkjet Printing
Inkjet printing involves printing an image from a computer directly through an inkjet printer. The digital image is transferred to the printing material while the ink is administered directly to the paper. This method is popular because of its simplicity for home and office printing needs.
Some applications of inkjet printing include advertising, paper cardboard, labels and more. Consider PaperTyger Inkjet as a durable solution delivering an optimized print performance on inkjet printers including water-based, HP PageWide, Memjet, and Latex.
Advantages of Inkjet Printing
Inkjet printing includes a few key advantages over other methods of printing. Let's look at a few:
It is a quick and simple printing process
Printed materials are easily customized to personal needs
Prints with high-quality and detailed images
At low print quantities, inkjet is a highly cost-effective solution
Related Article: Inkjet Printing vs Flexography
What is Laser Printing
The laser printing process creates an image using static electricity to put toner on an imaging drum. The toner is transferred and bonded onto a substrate. Then, a laser projects the digital image on the image drum. Finally, the image is created when the drum spins past the toner cartridge.
Laser printing can be used for labels, flyers, brochures and more. Laser printing is ideal for those who want high-resolution applications. PaperTyger is optimized for digital and laser printing and does not require an expensive coating as many synthetic substrates do. Furthermore, PaperTyger durable paper can be made available in the appropriate roll and sheet configuration for printers.
Advantages of Laser Printing
Some benefits of using laser printing are:
Ideal for large volume printing
The print lasts longer
A cost-effective solution for paper merchants that require a lot of prints;
It ensures a high-quality resolution.
It's important to note that laser printing is ideal for applications that have more text than images, like official documents or books.
Related Article: Offset Printing vs Digital Printing
Best Paper for Laser and Inkjet Printing
PaperTyger is compatible with both printing processes. Our durable paper works well on all printers. It acts and performs like paper because PaperTyger is REAL paper.
One main advantage of using PaperTyger for your printings is that it is a durable option due to its patented solvent-free laminating process. Its endurance and professional look mean your prints will last, at a cost-effective rate!
PaperTyger is ideal for many applications such as maps, menus, envelopes, RFID sleeves, official documents and more. Contact our paper experts to find the right PaperTyger paper suitable for your application.