What is Offset Printing?
Offset Printing is one of the most widely used printing techniques. It adds a lot of value to applications by providing high-quality, fast and efficient results. Typically it's used for mass production including maps, signage, brochures, magazines and packaging (like boxes and cartons).
Offset printing uses plates for each color used in the printing process. It's a printing press technique that transfers the ink from a plate to a rubber roller (or blanket) and then to various substrates to produce high-quality images and designs.
Why Should I Use Offset Printing?
Let's take a look at a few of the benefits you can see when choosing offset printing for your application:
Specialized results: it creates hues outside the standard printing methods that use pre-mixed inks such as metallic and Pantone colors;
High quality: the result of the print is a lot richer and clearer by using ink instead of toner (used in digital printing);
Flexible and dynamic: allows you to print on a wide variety of materials such as cloth, wood, metal, leather;
Low cost and efficient: the more quantities that are produced, the cheaper the per-unit cost becomes;
A durable method: as the plate does not have straight interaction, it prolongs its lifespan.
What is Digital Printing?
Digital printing is a newer technique. It processes your designs from a computer and prints directly on the products. Its two options of applying toner and liquid ink will offer you a high-quality and fast solution for smaller print projects.
Digital is a popular printing method for those who require a modern, crisp finish and a printing method that can also be done in-house. Examples of continuous feed printers for digital printing include cut-sheet digital presses, sheet-fed and inkjet production printers.
Digital printing is also perfect for data capability, the first main detractor for offset printing. It works wonders when each piece of material needs a unique name, code, address, as well as impeccable design, color, layout or copy.
Why Should I Use Digital Printing?
Digital Printing comes with many advantages. Including:
It's cost-effective and the best solution for those who only need a few prints. It's even more cost-effective in black and white
Prints the exact amount when you need it
It's faster as you don't need the whole process of the screen method
You can make easy changes and even personalize your products
Gives a better quality image with more detail due to the layers of ink being thinner
Digital Printing vs Offset Printing
Digital printing does not use plates to transfer ink to paper, while offset printing transfers ink from a plate to a rubber sheet and then rolls the ink onto paper, vinyl or other surfaces.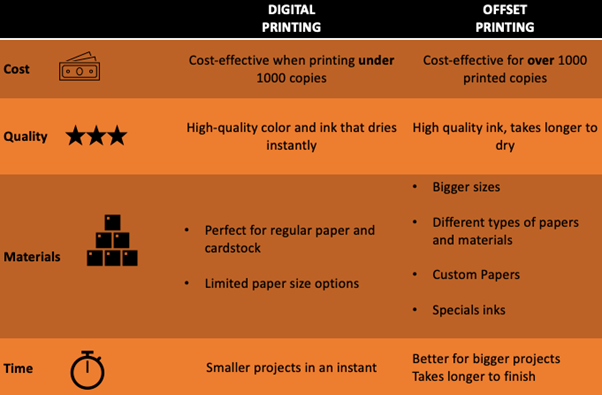 The truth is that both are ideal options for professional printing projects, but they'll bring particular benefits depending on your requirements.
Related Article: Digital Printing vs Flexography
The Right Paper for the Right Job
PaperTyger will run on most printers/plotters and is compatible with inkjet, laser, digital, offset, and UV printing. This is due in large part to its durability, among other amazing qualities.
Offsetting or digital printing will not be a problem when applying them to PaperTyger, they'll remain high-quality and cost-competitive, ensuring an outstanding printing performance.
PaperTyger's technologically advanced qualities bring a faster turnaround because there are no special inks or setups required. Therefore, our paper delivers the toughness of a synthetic sheet with the benefit of a coated printing surface.
Why Laminated Papers over Synthetics?
PaperTyger has the characteristics and benefits of real paper because it is REAL paper on both sides. It's a heavyweight, durable and cost-effective paper manufactured as an alternative to synthetic paper and other durable media products.