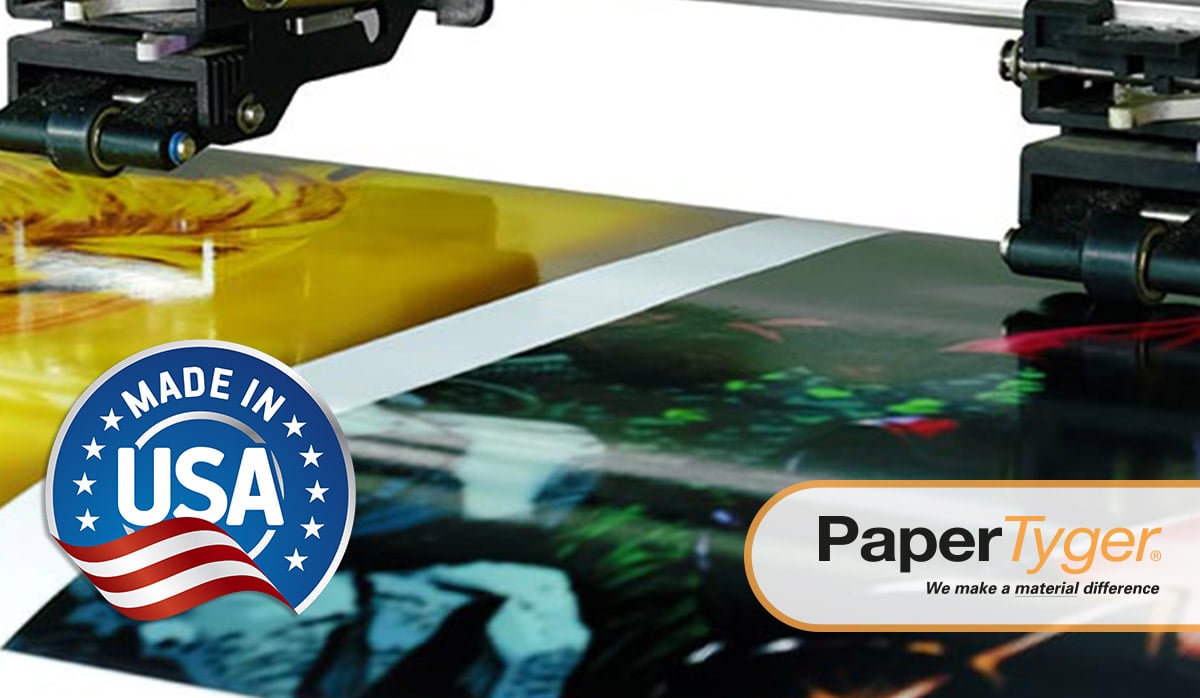 Quality print materials are the coming together of selecting the right paper, right ink, and correct printer settings. There are many good inkjet papers, but here's why PaperTyger's features and characteristics make it one of the best durable inkjet papers in the market.
Features
Lightweight Opaque Inkjet paper;
Featuring 90 brightness (TAPPI);
Excellent color
r gamut and enhanced print density for pigment-based ink systems;
Superior formation yielding numerous benefits such as reduced ink demand;
Exceptional printed opacity with outstanding inhibition of ink strike-through;
Proven excellent performance on Canon ColorStream 3900, HP T-300 and Ricoh IP5000;
Performs well in both four-color and mono-color applications;
Made in the USA.
Inkjet Paper Characteristics
PaperTyger® is a lightweight durable laminate paper manufactured by our patented process to produce an alternative to synthetic paper and other durable media products. This product provides superior inkjet printability with rapid dry time for wide format, high-speed inkjet devices. It offers an outstanding subset of colors and excellent formation with high brightness and opacity for a crisp image. The uniform printed appearance is designed to provide excellent ink density allowing for significant ink savings. Let's consider the characteristics in more detail:
Brightness For the majority of applications, the whiter the paper the better your copies will look. This is because paper brightness affects the images printed on the paper. So, the content will appear brighter and clearer on inkjet papers with higher paper brightness ratings. The brightness of a piece of paper is typically expressed on a scale of 1 to 100 per cent with 100 being the brightest. The multipurpose bond paper used in copy machines and desktop printers generally has a paper brightness in the 80s. Photo papers are normally in the mid to high 90s. PaperTyger brightness is in the 90s making it a high-quality print paper compared to multipurpose bond papers.
Basis Weight Basis Weight is the weight of a sheet based on standard size. Unique to our PaperTyger product is the availability of ultra-light basis weights for excellent yield and high pages per inch.
Compatibility Getting great printouts out of an inkjet printer requires the correct ink, paper, and printer to work in harmony. Therefore, the paper must be compatible with a suitable printer. PaperTyger inkjet paper is compatible with most inkjet printers, and it's thick enough for smudge-free inkjet printing. Our inkjet paper product has proven outstanding performance on Canon ColorStream 3900, HP T-300 and Ricoh IP5000 and performs well in both four-color and mono-color applications.
Opacity Opacity is a measure of how well a material prevents light from passing through it. Standard copier paper is somewhat translucent, while heavier papers are opaquer. The higher the opacity, the less that printed text and images will bleed through. Our PaperTyger inkjet paper boasts outstanding printed opacity with excellent inhibition of ink-strike through
Where can I find a distributor for PaperTyger Inkjet Paper?
Our preferred Distributor Roll Bond Converting can help you find a distributor in your area. Please contact Roll Bond Converting here.
Conclusion
This article offers advice, but in the end, it's down to you and your application because even the "best" papers don't suit every product.
Also discover 3 applications that should use PaperTyger durable paper.