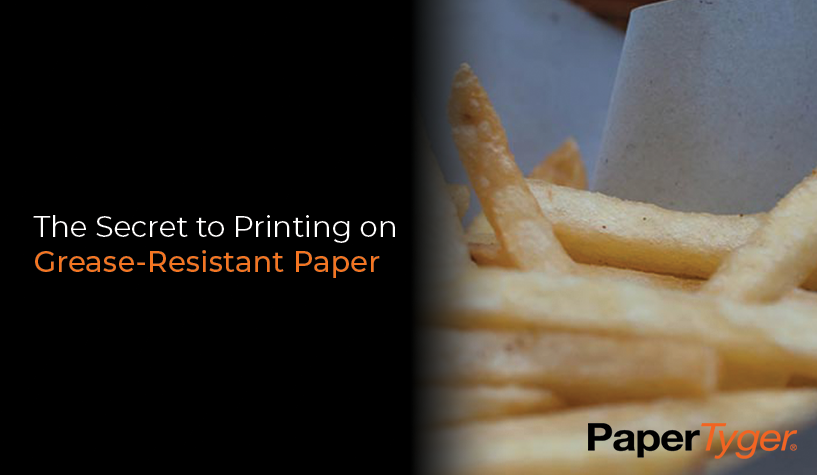 Finding a grease-resistant paper that is also easy to print on
Grease-resistant paper is simply a type of coated paper designed to resist grease and oil. It is often used for a variety of purposes including soap wrappers, envelopes, warehouse tags, restaurant placemats, menus, or even to-go container inserts at fast-food establishments.
The most common types of grease-resistant paper are waxed paper and silicone-coated paper. These types of coated paper work well for certain applications, but not others. When it comes to printable, grease-resistant paper, however, there are a few factors to consider.
Printing on grease-resistant paper: the challenges
Paper coatings will inevitably change the way designs look when printed, and they also often require different printing methods and long drying times. Grease-resistant paper is generally easy to find and likely exists in your local grocery store.
However, when it comes to applications that require ease of printing, crisp design, and durability, it suddenly becomes more difficult to find. This is because grease-resistant paper is typically passed through hard pressure rollers (called calendering) that increase the paper's density and create a type of paper called glassine.
Glassine is a smooth and glossy paper that is air, water, and grease resistant. It is usually available in densities between 50–90 g/m². It is translucent unless dyes are added to color it or make it opaque, and is easily confused with wax and parchment paper.
The issue with this type of paper is that it is not entirely tear-resistant, and its surface is not easy to print on due to the method of processing and lack of porosity. Since it's not a porous paper, ink absorption is lower, and drying times are significantly extended. And of course, this means that the risk of smeared ink or damaged designs is increased with glassine paper.
Printable, grease-resistant paper must be able to withstand exposure to the elements, resist tearing, and of course, ideally should not need long drying times or drastically change the way your design looks once printed.
PaperTyger for Grease-Resistant Paper Applications
PaperTyger's unique treatment process allows for grease resistance without compromising print quality. PaperTyger incorporates polymeric film in the laminate which is innately grease resistant. This feature enables use in applications where excessive handling or exposure to oily or greasy environments are commonplace.
PaperTyger's unique coating technology is based on a proprietary film construction that is applied to paper from the inside, rather than coating the outside. This construction allows for more autonomy when printing with PaperTyger since the paper is compatible with desktop printers. This enables PaperTyger's customers to produce greaseproof paper products that are both more durable and cost-effective than greaseproof papers currently being used by competitors in the industry. And of course, PaperTyger paper does not require customers to manually have paper laminated, as the paper treatment process allows for similar levels of durability on its own.
Use cases for PaperTyger's grease-resistant paper include, but are not limited to:
And this is because PaperTyger products offer high-quality resistance to the following, depending on the specific application:
oils, fuels and grease
high-temperatures
manufacturing processes
internal and external conditions
harsh weather conditions
UV exposure
dirty and abrasive environments
prolonged use/handling
Start printing with grease-resistant paper today and save time and money, without sacrificing print quality
PaperTyger products are some of the best on the market due to their ease of use– it prints and converts just like real paper, because it is! With a paper/film/paper construction and reinforcement from the inside, you can ensure extra protection, equivalent to synthetic paper alternatives, during handling and exposure to environments with grease and or oil.
Still not sure if PaperTyger is right for you? Request a free sample or reach out to our team today.