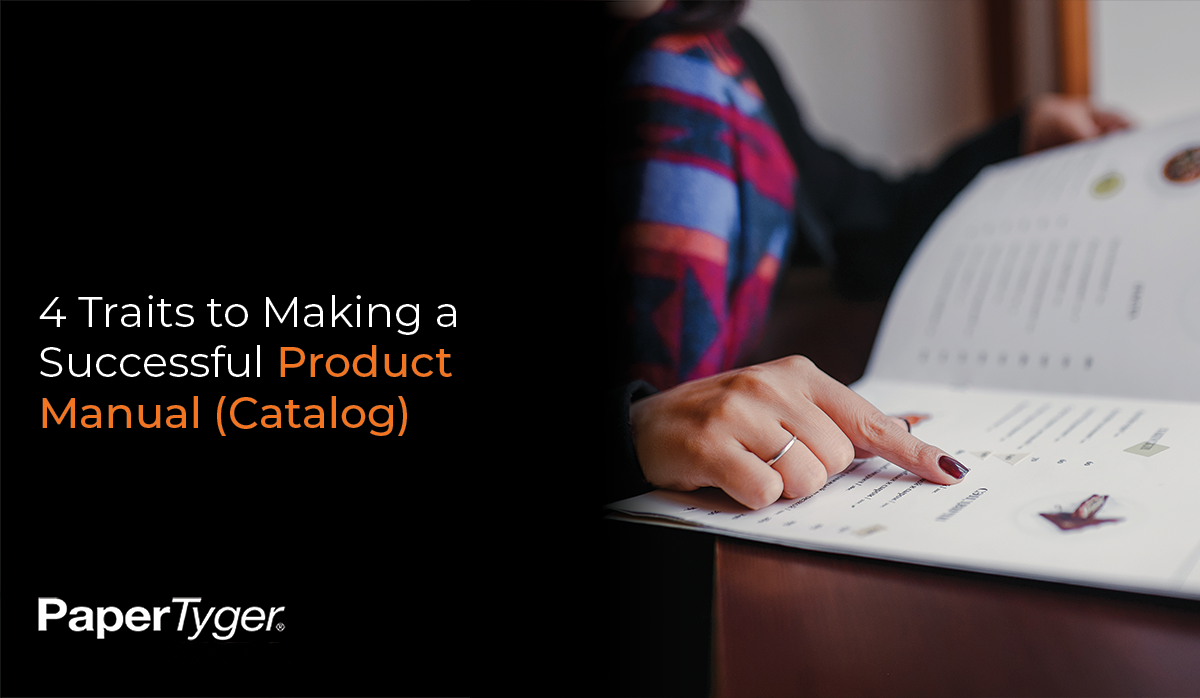 A product manual is a type of marketing collateral that lists essential product details, helping
buyers make a purchase decision. These details include product features, descriptions,
specifications, price, color, customer reviews, and more. Essentially, anything that is a relevant
selling point is important to add.
Creating an effective product manual is easy to do and allows potential clients to take a look at your offerings in one centralized location. Building a strong product manual creates the opportunity for you to showcase your offer(s) and clearly list the components of each product you're selling. A well-built guide provides clients with a streamlined experience with no surprises. A well-designed product catalog is just one of many decisions a business makes when establishing their brand. They may also consider signage and custom packaging.
Here's PaperTyger's take on how to create an effective product manual.

4 Components of an Effective Product Manual
1. Clearly Defined List of Offerings:
The key driver for building a product manual is to showcase your products and offerings. This is important because a manual's main purpose is to generate interest in your products or services that eventually convert to an increase in sales. It also paves the way for businesses to build trust and brand loyalty by aligning with the target market's needs and wants. Start by creating a rough draft list of all your most important items and services. A concise list should engage your target market and encourage them to flip through your more detailed offerings. Who knows? They might just find something they didn't realize they needed.
2. Clearly Defined Policies:
Your clients will be more likely to trust your business when you clearly state policies regarding orders, returns, exchanges, sales, and subscriptions. Make it as easy as possible for your prospective customers to know what to expect in the event that they are not entirely happy with their order.
3. Readability:
Decide how long you want your catalog to be. Keep in mind that this is meant to be an overview of products and/or services. It will be more engaging to your client base if only essential information is included. If you're a personal fitness coach for example, a tri-fold brochure might be the perfect length and size to list your different training packages. Conversely, if you own a hardware store, you might want to print a longer booklet with SKUs, prices, colors, etc.
4. Printing:
It's most effective to have both print and PDF versions of your product catalog. Choosing the right paper is an important step in this process. PaperTyger offers durable paper that looks, feels, and behaves like real paper for one simple reason; it is! It's real paper that offers the durability and resistance of synthetic paper (without being one) because PaperTyger products are manufactured using a solvent-free laminating process. Print your product manual on our paper and you'll have a durable, aesthetically engaging guidebook of your offerings to hand out to your clients.
Ensuring that your manual is user-friendly and readable are some of the most important components of creating an effective one. Perhaps the single most important element of a great product manual, however, is its durability. Manuals are generally produced with longer periods of time in between than say, a weekly catalog of items. Since your manual will need to withstand the test of time, you'll need a durably designed booklet. PaperTyger paper is the preferred material for a manual since PaperTyger is a durable, tear-resistant, and water-resistant paper. Your manual will look as good as the day it was printed, and you won't have to worry about degradation over time.
Not sure if PaperTyger is what you need for your printed product manual? Request a free
sample here or chat with us here.