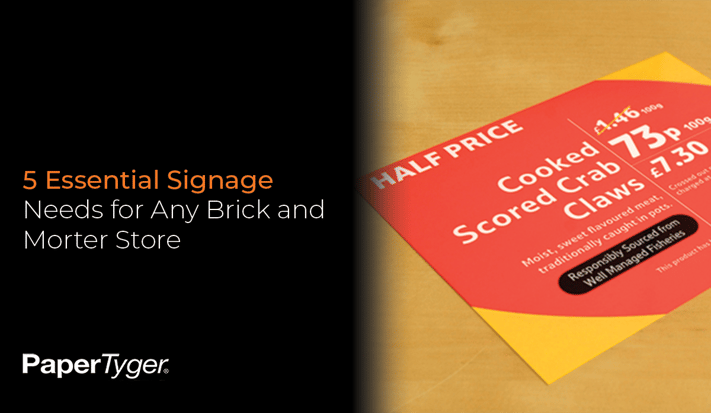 Most, if not all, brick-and-mortar business owners need physical signage in their places of business. From building evacuation guides to hours of operation, signage is an integral part of an effective office or store. We define signage as the tangible signs or plaques that are adhered to the wall to label rooms and direct people within the building. Signage is also used outdoors to label your office with your branding.
Read on as PaperTyger lists some essential signage for your business and how to obtain signage that fits you and your business, without compromising aesthetics or compliance.
Choosing the Right Signage for Your
Place of Business
The information printed on signage ranges from trivial to essential, and in many cases, it empowers employees and customers alike with the information required to close sales without your direct oversight. This includes details of a promotion or infographic reminders of business procedures; think of sanitation requirements in an industrial kitchen. This information is necessary for your business to thrive, regardless of industry; and conveying this information through signage instead of micromanaging frees up more time and attention you need to devote elsewhere.
Let's review a few types of signage used by many businesses across all areas of commerce.
1) ADA Compliant Signage:
ADA compliant signage adds braille to signage in your office or store. This is important in terms of accessibility for persons with compromised sight and is a compliance requirement in the US. Businesses that acknowledge these accessibility needs are more likely to be considered inclusive workplaces and draw a larger client base.
A compliant sign adheres to rigid guidelines related to sizing and coloring, has raised text for the lettering and image, and includes braille. Note that ADA signage is solely to identify permanent rooms, spaces, or areas within a building (i.e. restrooms, stairways, room numbers, kitchen, mechanical, etc.). In the US, they are NOT required for informational or directional/wayfinding signs.
2) Bathroom Signage:
This is more important for store/office visitors but is similarly valuable for employees. Marked restrooms eliminate the need for customers to ask where the bathroom is, and you'd be surprised how much this will streamline the flow of your business and space!
By offering customers a location to use the restroom, you are eliminating a variable that may impact a customer's willingness to devote time to purchase decisions. For the most part, the longer a customer is willing to spend in a store—especially retail—the more they will likely purchase.
3) Employee Rights & Compliance Posters:
It's important to have your employee rights policy in clear view for all to see. Your employees will be clear on what they're entitled to as part of your team when your policies are established and easy to find. Having a workforce that is educated on their employee rights creates an honest and transparent work environment and fosters clear communication and approachable leadership teams.
These signs support employees, showing a consistent reminder that they are an important consideration by management. Many employees may feel a morale boost in knowing this, positively affecting their work ethic and performance.
Related Article: Why Custom Paper Wraps are a Great Business Branding Opportunity
4) Building Evacuation Signage:
In many places, fire escape signs are provided to guide you to safety in an emergency. Fire escape and evacuation route signs are not needed on the main route into or out of a building (the one used by people for normal arrival and exit), but alternative escape routes and complicated escape routes do need to be signed. It must not be assumed that everyone will know all safe routes through the building.
Other instances of building evacuation signage are variable but no less important. This may include washing procedures for chemical exposure or storm shelter emergency information for hurricanes and tornados. It's important to consider what elements may impact your business based on location or industry. Be warned, failing to have this information posted may prove to be a major liability.
5) Hours of Operation:
This is relatively intuitive, but having hours of operation visible in your store or office window is key to welcoming customers inside. You'll want your clients to know for sure if you're open or not and the "hours of operation" sign provides clarity and concrete availability times. This allows your clients to plan their visit according to your open hours of operation. This also includes special circumstances, like holidays. Closed, open, or modified hours of operation are very common—and commonly frustrating for customers to navigate—during the holiday season. Transparent (and early!) postings of forecasted hours during these periods are essential.
No matter what your business signage needs are, PaperTyger is happy to accommodate! PaperTyger uses a solvent-free lamination process to produce a final product that looks and feels like paper–and that's because it is! Our paper is weather, tear and grease-resistant, and we offer a variety of surfaces to print your designs on, so your signage will be looking its best! Good signage is just the first step of many to building a strong business brand. Whatever your needs, PaperTyger is here to help.
Have questions about how PaperTyger can support your business' signage needs? Contact us here.