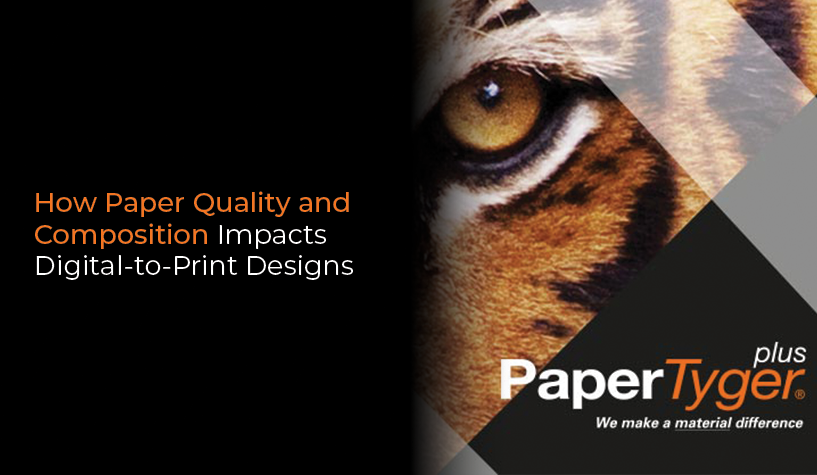 You've just finished creating your incredible design and now it's time to print it! As professional designers know all too well, the quality, finish, and type of paper you print on will directly impact how your final design looks.
Read on to learn how and why PaperTyger can print your designs without sacrificing the quality or clarity of your work.
Is synthetic paper the best choice to print designs?
The successful translation of a design from digital to print requires a designer to consider paper quality factors including printability, gloss, water-proofing capabilities, and more in order to ensure that the end result looks its best. Other considerations include what type of design will be printed on that paper type, as well as the project turnaround times. For example, a design project requiring a fast turnaround might be more suited to a paper that can promise fast drying times and less exposure to elements during the drying process. Therefore, synthetic paper might not be the best choice, as synthetic paper often requires long drying times.
Synthetic paper has become the general term for an entire category of products that look, feel and sometimes perform like standard paper. However, rather than using wood pulp as a primary ingredient, this type of paper is made with synthetic polymers that add durability.
Synthetic paper can be used for many applications that typically require greater durability, strength, versatility and functionality than conventional paper. However, synthetic papers usually require special coatings, inks, settings, and plates, and have prolonged drying times. Synthetic paper types are notoriously difficult to work with and as a result, real, high-quality paper might be preferred when printing a digitally created design.
Related articles: How PaperTyger Substrates perform better than Synthetics
Average paper types are naturally susceptible to damage due to wear and tear, and degradation of conventional paper over time is inevitable. That's why a "hybrid" paper type is the ideal option to maintain clarity and quality when printing a design.
PaperTyger, for example, is a paper that looks, feels, and behaves like real paper for one simple reason; it is real paper - yet with an additional advantage. Read on to learn more.
Why PaperTyger?
An important difference between PaperTyger's formula and the average conventional paper offered by competitors is the reinforced durability due to an inner layer of plastic film. This inner layer allows PaperTyger's products to remain resistant to water, dust, tearing, and grease over time. PaperTyger products achieve this level of durability through a patented, solvent-free laminating process, creating an added layer of protection that will not only make your designs look better, but also age better and last longer over time. PaperTyger's printing surface is made from an alternative to synthetic materials, and as a result, drying times are significantly reduced in comparison to synthetic paper types.
PaperTyger's paper/film/paper configuration is a preferred choice for applications requiring durability without exposing the product to the elements for long periods. Our laminating method does not require ovens to cure or burn off solvents nor does it use water-based adhesives, and as a result, our laminated papers are more stable. This proven method ensures that our products can stand up to even the best synthetic paper types without compromising quality.
Interested? Try a free sample of our paper today. We're certain you'll experience your digital designs in a new way, looking better than ever– in print!
Want to keep up with our latest developments in durable paper technology? Follow us here.