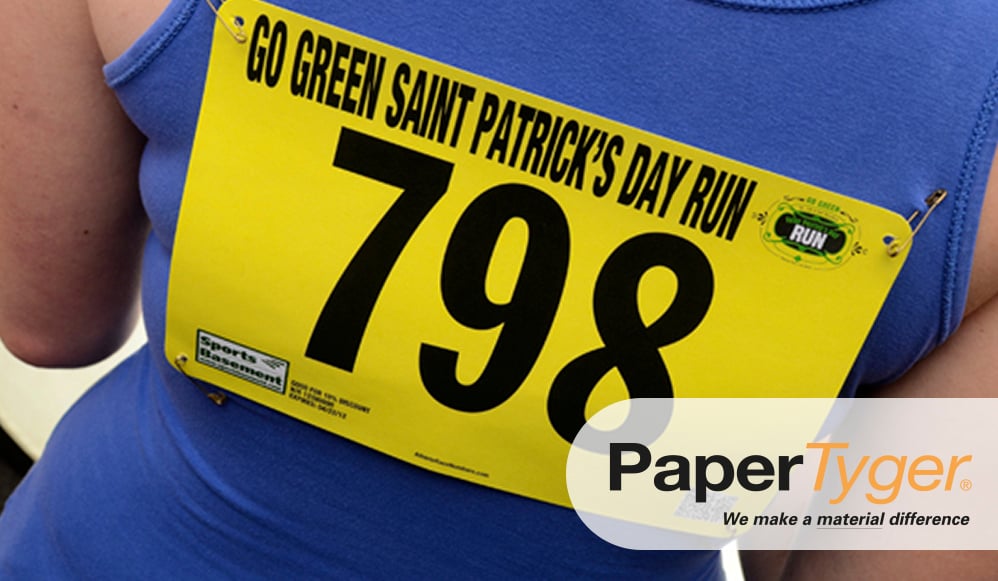 PaperTyger is a leading provider of durable paper products for a variety of applications, including custom racing numbers and bibs for athletic events, sports, and marathons.
Why is our material the smart choice for racing numbers and bibs?
PaperTyger products are a suitable material to manufacture custom and generic adhesive and pin-on athlete numbers made for the most demanding conditions. Read on to find out why…
Our water-resistant, tear-resistant, and affordable materials are the perfect choice for rough conditions due to our paper/film/paper laminate that offers comparable durability to synthetics. Our manufacturing process ensures our products have the look, feel, and performance of paper – with the added durable resistance that is key for many of our customers. Our process requires no ovens to cure or burn off solvents and doesn't use water-based adhesives either, which means our laminated papers are more stable. Typically, synthetic papers require special coatings, inks, settings, plates and have prolonged drying times.
👉Discover why Mathew Behning, Founder of Drake Graphics Group who offers a variety of printing technologies, would offer PaperTyger as the number one choice for customers requiring a synthetic material for their applications.

Aside from PaperTyger's superior durability, it's also a cost-effective and time-efficient way to print due to its compatibility and ease of printing with a range of technologies. Because the high-quality print surface is real paper, it requires no special inks or setups, whilst still producing vivid images for graphics and sharp definition. Less waste and quicker drying times mean all equal further cost savings for our customers, without sacrificing the quality!
Learn more about the benefits of PaperTyger's printing and converting ease.
Ultimately, using PaperTyger's durable paper guarantees that our customers can choose the latest and most suitable technology to process their high-quality custom designs. Furthermore, they can ensure a fast turnaround on all custom and generic orders, as well as an end product that is not only affordable but also high-grade and durable!
Interested in PaperTyger?
Each PaperTyger product has distinctive characteristics that make it better suited to certain application requirements. Be sure to visit our Products Page for more detail on what product is most suited for you. For more information about whether your application suits our durable paper material, please contact one of our paper experts! If you have custom requirements, we are happy to work with you directly to create a perfect solution.