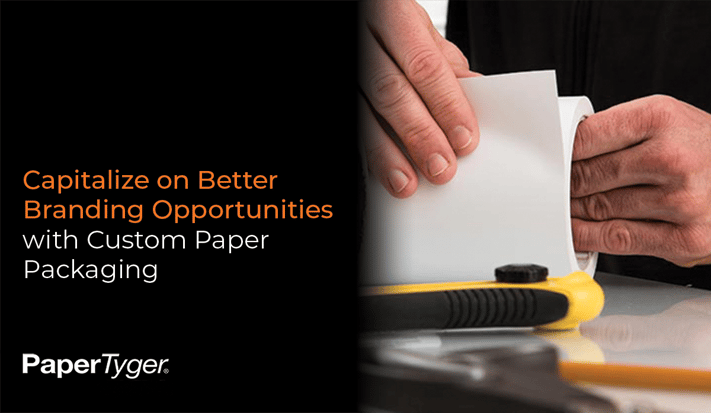 Custom packaging doesn't need to cost a fortune to find success. Cost-effective wrapping paper is an excellent packaging solution for businesses. Let's look at a few reasons why branded paper packaging elevates business marketing.

Read on as PaperTyger highlights 3 key benefits of using a wrapping paper design for your products.
Promoting brand Awareness
Packaging paper is more than just an investment in an attractive box. Designing custom wrapping paper for your products helps you stand out from competitors in an often ruthless marketplace. It's a basic business branding tool, a marketing strategy, and a customer service booster wrapped (literally) in one!
Think of all the times when something stood out to you solely because of the packaging design--maybe it was an attractive can or a box art that caught your eye in a way you couldn't quite place. Getting consumers to stop in front of your product is invaluable. In many ways, it works similarly to poster branding.
It's attention, and whether or not they make the purchase then and there, it'll leave an impression that will stick with them the next time they walk by; the time after that; and the time after that. It creates an identity that slowly builds credibility. The next time that buyer is in the market for your goods, it's your name--not your competitors--that the consumer will remember.
Investing in custom wrapping paper is an opportunity to bring your brand's personality to life. Be sure to design something that boasts your logo and color scheme. Create a visual brand that tells your story. Ultimately, encouraging your customers to build familiarity is more likely to yield repeat business!
So ask yourself, what is the story you are trying to tell with your product, your company, and your brand? What is your identity? It's critical to have these questions answered before you attempt to portray eye-catching brand design.
Packaging and product durability
Wrapping paper designs are a cost-effective way to provide a layer of protection against knocks and bruises, provided you use high-quality paper, of course! It should be said that we aren't talking about the wrapping paper you may expect with a birthday present. Many industries use paper wrapping as a cost (and space!) saving measure over traditional boxes and bags.
For instance, custom soap bar wrappers are a very affordable way of branding your products whilst keeping them protected and fresh. PaperTyger paper has been used on soap bars to a great extent in the past for this exact reason. This includes the bars of soap you see in hotels and spas--as well as those seen on store shelves. Candles, candy bars, and printer paper often use this method of packaging, to name just a few.
PaperTyger is a durable paper that can resist extreme weather and handling conditions. Our durable paper is resistant to tearing, oil, grease, and water. It also prints and converts like paper (because it is!), ensuring exceptional graphics and sharp definitions for detailed text and bar codes. It balances synthetic paper qualities and real paper qualities that give it the edge on most methods of printing, while maintaining synthetic paper's impressive durability. For paper packaging, that's the best combination you could ask for.
Strong Branding and Organic Promotion
Studies show that roughly 33% of people share products online if their customer experience is pleasurable. They share content (and photos) with their audience - an audience you might not have captured with your own marketing. In the age of social media, many influencers will post "unboxing" videos as they open a new product and show their followers.
Having a well-designed, branded wrapping paper can make your product stand out in ways you might not have originally anticipated. Ultimately, a branded wrapping design that improves customer experience can work wonders to spread your product to more potential customers and build brand awareness - for almost no extra cost.
Interested in investing in durable paper for your custom wrapping? Contact us today to receive more information.