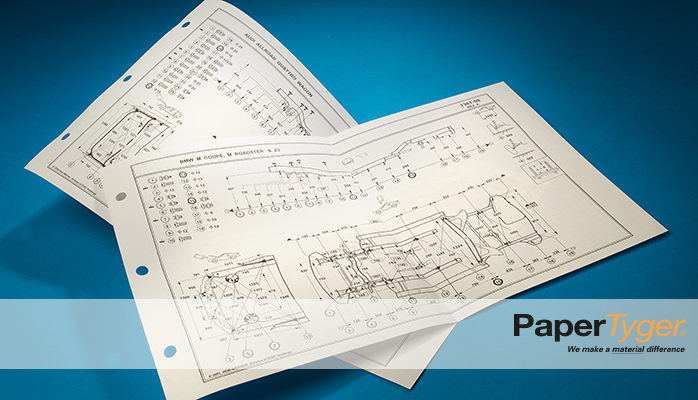 Water resistant paper refers to paper products that are designed to withstand incidental or light contact with water. These products can be used in wet or outdoor environments. Water resistant papers will survive light contact with water, but they are not waterproof. However, these products can be designed in a way that gives them comparable qualities to synthetic waterproof papers.
Water resistant paper is essentially layered or laminated paper, which makes it tolerant to water and tear resistant. The inner film allows the durability of synthetic paper with the look and feel of standard paper. Because of its unique construction of paper/film/paper, this paper will run on almost any laser or inkjet printer.
Water Resistant Paper Options
PaperTyger products are designed for long interior and short-term exterior application from uncoated papers with wet strength for protection against moisture. In addition, the inner layer of film offers comparable moisture barrier to synthetic papers.
Bonus Qualities
Weather Resistance
All standard PaperTyger products now come with the option of a weather resistant coating. This is designed to print well with UV IJ inks, but has performed well with other weather resistant inks. This makes PaperTyger products weather resistant for a longer period of time. When used with appropriate outdoor inks, PaperTyger products will withstand sun, wind, rain, humidity, snow and dramatic shifts in temperature.
Applications
Manufactured by a patented, unique, solvent-free laminating process, all PaperTyger papers positively contribute to a range of applications where durability is required: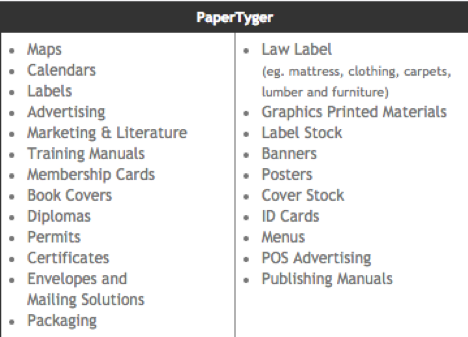 For PaperTyger product details, refer to PaperTyger's Products page.
We're happy to help
If you have custom requirements, we are happy to work with you directly to create a perfect solution. Simply click here to get in contact with one of our paper experts today!